You don't have to move to California or Bollywood immediately after deciding to be an actor.  There are acting positions available all over the country.  You can get started in the acting industry by:
Trying out for auditions. Craigslist and Indeed allow you to search local casting calls for free. Most other sites will expect you to pay a fee.

Looking for jobs at a studio or elsewhere in the industry.

Taking acting classes or earning an acting degree.
Actors are used in all sorts of industries. Some medical schools use them to test medical students. Amusement parks like recruit actors. Film school students seek out actors for their films.
Find casting calls through:
SAG AFTRA SAG-AFTRA brings together two American labor unions: Screen Actors Guild and the American Federation of Television and Radio Artists.
To find a job in the industry, visit the website of the company you would like to work for. Unfortunately, many of these companies do not post casting calls on their websites:
Disney– Lists Disney jobs all over the world.
Fox – Check out each section under the divisions tab to see all the jobs.
Time Warner – Includes HBO and WB.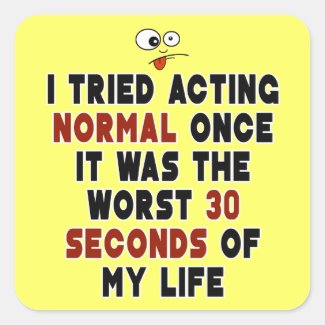 Acting Normal Stickers
by
FunnyFiles
Shop for Acting normal Stickers online at
Zazzle.com